It's a common habit of modern people to search the web to get knowledge for solving their problems. Audio, video & text contents are available on the web with huge information! People became dependent on computers and can do most of the works using computers! Distance is really not a factor because people can record their desktop or laptop screen and can share the contents with others. Besides, if you need to record computer screen to show a demo of your tasks, software, want to make a tutorial then Screencast Video Recorder Software is the best option for you!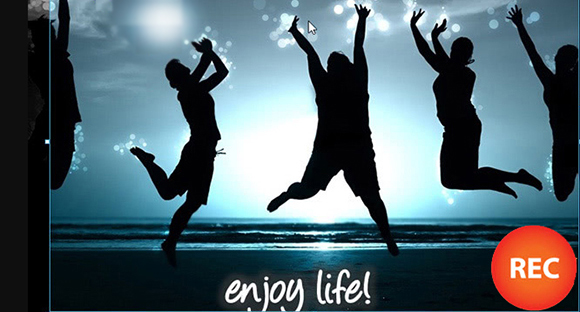 ---
How Screencast Video Recorder Software Helps You
If you are a dynamic individual, want to do creative works or have got strong desire to make your own YouTube channel to earn extra dollars then Screencast Video Recorder Software is a dynamic software for you! Most of the tutorial, presentation, videos you find online are made using such software. So, if you need to do such work then you are definitely in need of such software!
---
Selecting the Best Screencast Video Recorder Software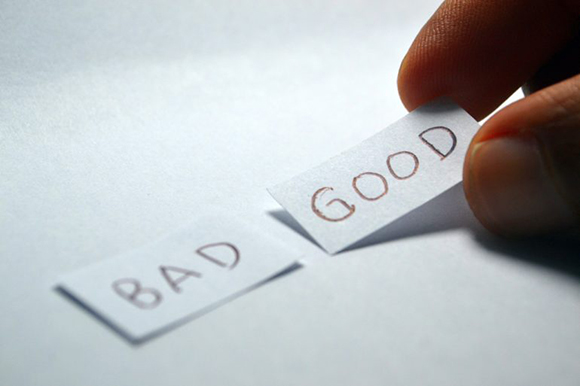 There are a lot of screencast video recorder tools available on the web. But before you select and download one for you, you should consider the following issues of the software:
Capture tools (audio & video) & options
Editing tools (audio & video)
Output quality
Content sharing features
Simple installation process
Pleasant & user-friendly interface
User compatibility & its technology
Safety & software protection
Can make interconnectivity between hardware or applications easy
---
Free Screencast – Simply the Best!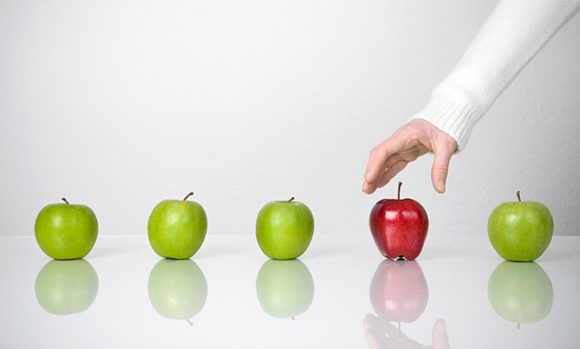 Considering effectiveness, output quality, attractive features and others facilities Free Screencast is the best software available in 2018. Screencast Video Recorder is completely free for users, the best match for Windows 10 and got hot features. The uniqueness of Screencast Video Recorder are as follows:
Very compatible with Windows platform exclusively for Windows 10
Can record anything from computer screen
Can resize, crop, rotate, apply effects the captured videos
Can save the output in MP4, FLV, MKV, WebM & other formats
Can record full or a particular area of the screen with sound
Can record high-quality video from IP-camera, webcam & other devices
Can record according to set schedule automatically
---
Uniqueness of Screencast Video Recorder!
The unique and innovative features of Screencast Video Recorder will fulfill your requirements for your projects. Among the Screencast Video Recorder Software, Screencast Video Recorder is the best because of following specialties!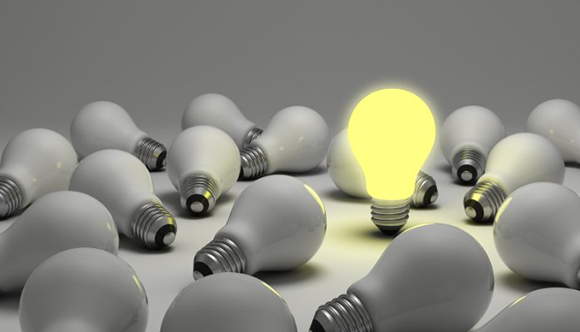 Recording Video with Sound
Whatever you need to record from your computer screen, Screencast Video Recorder will record everything according to your need. It can capture videos along with sound using audio synchronously from input devices such as a microphone, audio mixer, telephone line, etc. Besides, it will let you option to capture full or a particular area of the computer screen. It simply made recording skype video calls, video from IP-camera, webcam, online & offline sources, etc. super easy. It just makes the computer screen an Audiovisual (AV) studio.
Editing Tools
Free Screencast has one of the best set of editing tools because according to your need you can optimize & customize your recordings. Even you can apply cool filter effects to ensure high-quality productions.
Grabbing Still Images
High-quality images can be captured from computer screen such as from webcam, IP-camera, Skype video call, etc. in BMP/JPEG format and can be saved to the clipboard using the One-Shot Mode or Burst Mode of Screencast Video Recorder.
Recording Timer
Just set the recording duration (start & end time) to record a specific scheduled task, Screencast Video Recorder will record & save the video accordingly.
Recording Format
Video can be captured in different formats such as FLV, WebM, ASP, MP4, WMV, MKV, etc. and can be shared through Facebook, YouTube, Twitter, blog, websites or through any other media easily.
---
How to Record Your Screen with Free Screencast
If you are a dynamic person, want to make video tutorials, share your skills through video contents, make your blog or website more interactive or need to do creative works then Free Screencast is the best option for you. And you are just a click away to download & install Free Screencast!
Step One: Download & Install
Just click, download & install Free Screencast on your Computer.
Step Two: Open Free Screencast Software
After installation completely free "Free Screencast", just launch Free Screencast by clicking the icon from your computer.
Step Three: Selecting Recording Region
A preview window in full-screen mode will open if you click the 'Screen' icon. You can record full screen or can record any part of it by using 'Zoom' slider. After selecting the recording region by using a cursor or entering the number of the monitor just click 'OK' to confirm.
If you want to record video content from the camera connected to the computer or IP-camera then you need to click 'Device' or 'Network'.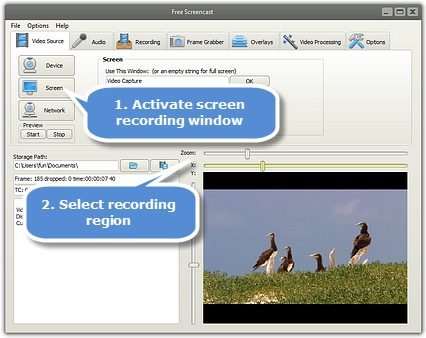 Device: Click 'Device' to capture video content from the webcam connected to the computer from 'Video Source' dropdown list. Also, adjust the combination of video output through 'Video Format' setting according to your need.

Network: Click 'Network', enter IP-camera URL, set connection and receive timeout, enter username & password if authentication required to capture video from IP-camera. Click 'Start Preview' to view the preview and click 'Send' to control the IP-camera.

Step Four: Setting Other Features
According to your need just select & set the options required for desired output from the menu bar of Free Screencast.
Capture Audio: Click 'Audio' tab, select & set audio input source, balance, master input mix, etc. to record audio along with the video content.

Capture Frames: Using the 'Frame Grabber' tab capture frames of the recording in IMP, JPEG or Clipboard format. Just set the options of the Frame Grabber to ensure your desired frames size & amount.

Adding Overlay: By clicking 'Overlays' tab and setting options according to your need, you can add overlay text or images to your screencast easily to make the output attractive.

Special Angle: If you need to record a special angel or video rotation of the computer screen (rotate or flip the video) then just choose the 'Video Processing' tab of Free Screencast and set options according to your need.

Hotkeys: Using the 'Option' feature of Free Screencast, you can finish your work within seconds without finding the click buttons.

Step Five: Start Recording
After setting everything according to your need, just click 'Recording' tab. Click 'Audio Recording', to record video with audio, choose recording format or customize it by yourself using 'Video Compressor' feature of Free Screencast. You also can set 'Recording Timer'.
When everything is set then just click 'Record' or press F9 to start recording.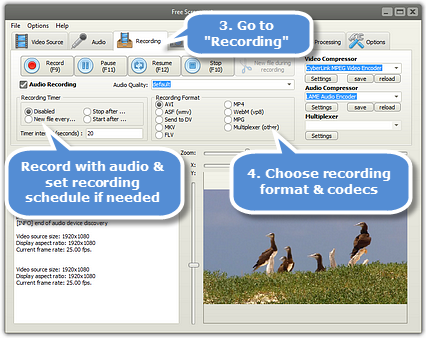 ---
Useful Tips
If you need to make professional quality YouTube videos, tutorials, record Skype calls, audio-video contents, images, game matches, capture happy moments perfectly then to ensure the best performance of Free Screencast following tips can be useful for you!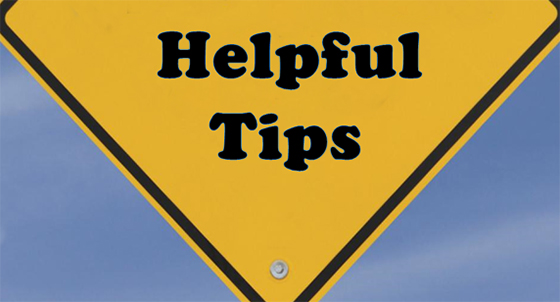 Need to set different options properly for the best output
Make sure that you leave adequate time for your software & PC to respond
Check hardware connections of additional devices such as audio or video input devices
---
Verdict
Definitely, Free Screencast is the best Video Recorder for you because of its unique & effective features. It has the most user-friendly interface, completely free without registration & extra cost and safe without any malware.   It does much more than record the computer screen. Recording editing, enhancing & sharing videos or making YouTube tutorials using your computer screen are very easy using Free Screencast.
Think twice! Are you a dynamic individual! If yes, then just click and get dynamic Free Screencast for creative jobs!
Please follow and like us: